Welcome…
We would like to extend a warm welcome to all students who will be visiting our campus this summer. Being away from home and living in a new country is an exciting experience but can also seem a little daunting at first. To make your transition as easy as possible, we have compiled a list of FAQs, which are outlined below.
We look forward to seeing you all during your stay at NUI Galway! In the meantime, please feel free to follow @nuigalwayevents and @nuigalwayaccom on Twitter to get an insight into campus life here in Galway!
Yours sincerely,
The Campus Living Team
Travel
How do I get to Ireland?


Ireland has a number of international airports:
Dublin (DUB) c. 2 hours from Galway by bus/car),
Shannon (SNN) c. 1 hour 20 minutes from Galway by bus/car),
Ireland West Airport Knock (NOC) c. 1 hour 20 minutes from Galway by bus/car),
Ireland also has a number of sea ports:
Dublin  c. 2 hours from Galway by bus/car
Rosslare  c. 5 hours from Galway by bus/car
How do I get to Galway City?
Galway City is easily accessed by car and public transport. For exact directions, please click here
Where do I go once I reach Galway?
Unless otherwise stated by your program leader, please go directly to Corrib Village reception to check-in. Corrib Village is situated on the Upper Newcastle Road and is approximately a 5-10 minute walk from central campus. For exact location, please click here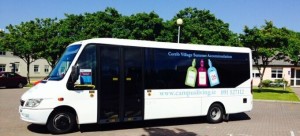 Check-in time is 4:00pm, check-out time is 10:00am. While a 24-hour reception is in operation, I would advise you to contact either your program leader or myself at conference@nuigalway.ie should you plan on arriving late at night or early in the morning. Upon check-in you will receive a welcome pack, detailing classroom information, accommodation details and other general information.
There is a complimentary shuttle bus to Corrib Village which guests can us, the timetable for which is below. This bus only operates during the summer months.
| | |
| --- | --- |
| Depart Corrib Village (view location) | Depart City Centre (view location) |
| 10:00 | 10:30 |
| 11:00 | 11:30 |
| 12:00 | 12:30 |
| 13:00 | 13:30 |
| 14:00 | 14:30 |
| 15:00 | 15:30 |
| 16:00 | 16:30 |
| 17:00 | 17:30 |
| 18:00 | 18:30 |
| 19:00 | 19:30 |
Accommodation - Corrib Village
Do I need to bring bed linen/towels?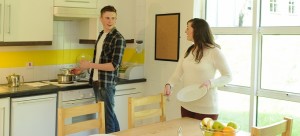 Linen and towels are provided for all guests. A timer, located in each apartment, operates hot water, heat and electricity and these charges are included in your program cost.
Do I have use of a kitchen?
Yes, you will have access to a fully-equipped kitchen/living area in your allocated apartment.
Is there Wi-Fi?

Yes, there is free Wi-Fi at Corrib Village and codes can be obtained at reception.
Can I receive mail while staying at Corrib Village?
During your stay, you can have personal mail and packages sent to you at Corrib Village by addressing them to Corrib Village Student Residence, NUI Galway, Upper Newcastle, Galway, Ireland. You must have the sender indicate clearly the programme reference name.
How far is Corrib Village from the University?
Corrib Village is located on the University campus. It is approximately a 5-minute walk from central campus and is even closer to North Campus buildings. Click here to view a campus map.
How far is Corrib Village from Galway City?
Corrib Village is approximately a 15-20 minute walk from Galway City. A free shuttle bus is in operation daily, please see timetable in the 'Travel' section above. Please note that seats are limited and are allocated on a first-come-first-served basis.
Classrooms
Where are my classrooms located?
Your exact classroom(s) will be confirmed to you on your arrival in your welcome pack. All classrooms will be within a 2-5 minute walk from Corrib Village.
Sports
Are there gym facilities?

NUI Galway's Sports Centre 'Kingfisher Club', is ideally located by the Quincentennial Bridge and is fully equipped to meet all your sporting needs.
Rates for visiting groups are as follows:
Daily rate for gym OR swim €5.00 per person
Daily rate for gym & swim €7.50 per person
Weekly rate for gym & swim €20.00 per person
Monthly rate for gym & swim €45.00 per person
In order to avail of these special rates, please quote the reference name of your group, which will be provided in the welcome pack you receive upon arrival.
Computers, Wi-Fi & Printing
What about computer & wireless access? Is there access to printing?
There are two separate wireless systems in place – one in Corrib Village and one in the University. Corrib Village Wi-Fi is free of charge. Nominal charges do apply to University Wi-Fi/PC suite codes, please check with your faculty or program co-ordinator to see if these charges are included in your program cost. If not, please contact me at conference@nuigalway.ie for further information.
Access to both PC suites and printing facilities can be gained using the University system. General PC suite opening hours, printing costs etc are available here. Just to note, the closest PC suite to Corrib Village and/or Áras Moyola is located in the St.Anthony's Building (directly across from Moyola).
Voltage
What about electrical power supply and access?
The voltage in the US and Canada is 100 – 120, while the voltage in the UK and Europe is 200 – 240. Most new laptops are dual voltage and will simply require a travel plug adapter to go from the two-prong plug to the three-prong plug used in Ireland. Travel adapters are readily available in most electrical retailers or big department stores e.g. Argos on the Headford Rd, Galway.
Library
Where is the library located?
The library is located in the centre of campus opposite the Arts/Science Concourse. Click here to view on a map.
Is there a charge for use of the library?
Nominal charges do apply for library access cards. Please check with your Faculty/Programme Co-Ordinator to see if these charges are included in your course fee.
Summer 2014 Opening Hours
From Monday, 26 May to Sunday, 26 August 2014, the library will be offering the following extended summer opening hours:
Monday to Thursday  08.30-22.00
Friday  09.30-17.30
Saturday  10.00-17.00
Sunday  Closed
Exceptions:
June Bank Holiday (Monday, 2 June)  Closed
August Bank Holiday (Monday, 4 August)  Open 10.00-17.00
Restaurants
Are there any restaurants close by?
There are a number of catering outlets located on campus, offering a varied and competitive fare. For further information, please click here. Eating out in town can be expensive so keep your eyes open for Early Bird Menus which offer better value for money.
Banking & Currency
Banking Options
Most banks provide foreign exchange and travellers cheque facilities. Major credit cards can all be used in Ireland (e.g. Visa, Mastercard, American Express).
Banks:
Bank of Ireland, Arts/Science Concourse Building, NUI Galway
AIB Bank, Newcastle Road, Galway
Ulster Bank, opposite the University College Hospital, Newcastle Road
Bank Opening Hours:
10.00am – 4.00 pm Monday to Friday
On Thursdays, banks are open until 5.00pm
Bank of Ireland is open until 5.00pm on Mondays
Currency:
The Irish unit of currency is the Euro. The Euro can be divided into cents. Coins in the following denominations are used: €2, €1, 50c, 20c, 10c, 5c, 2c and 1c. The bank notes are €100, €50, €20, €10 and €5.
Socialising & Entertainment
What social options would you recommend?
Galway is known as The City of the Tribes, but during the summer months it could also be known as the city of the festivals. There are numerous festivals and events, along with daily concerts and gigs, taking place in the city. Some of these festivals are listed below:
The Galway Arts Festival
The Galway Fringe Festival
The Galway Races
The Galway Oyster Festival
The Galway Trad Festival
For information on the city's attractions please click here or visit www.discoverireland.ie/west. Some popular entertainment options are as follows:
Cinemas
Theatres

Town Hall Theatre
Traditional Irish Music Venues
The Crane Bar, William St, Galway
Monroe's, Dominick St, Galway
Taaffes, Shop St, Galway
Tigh Chóilí, Shop St, Galway
Live Music
For weekly information on live music options in Galway City, the following are good sources of information:
Galway Independent newspaper
Galway Advertiser newspaper
Entertainment Ireland
Roisín Dubh
Shopping & Groceries
Are there many shopping centres?
Big city centre shops and department stores are open 6 or 7 days a week, usually closing at 6:00pm and with late-night shopping on Thursdays and Fridays until 9:00pm.
Suggestions for good value:
For clothes, shoes, rainwear etc Dunnes Stores and Penneys (Eyre Square Shopping Centre)
Irish-made gifts: The Treasure Chest (Shop St), The Kilkenny Shop and Craft Shop (Quay St)
Electrical goods – Argos, Headford Rd, Galway
Where can I buy groceries?

Day-Today shop/deli/café is located in Corrib Village. Here, you can stock up on frozen foods, dairy products, fresh fruit and vegetables, meat products, tea/coffee, toiletries and other essentials. In addition, a selection of salads, sandwiches and hot food are also available.
Dunnes Stores has a large outlet in the Eyre Square Shopping Centre (Corbettcourt) in the centre of town – if you use the Corrib Village shuttle bus, this will be the most convenient location for you.
Tesco Express on the corner junction of Newcastle Road and University Road near to the University main gates.
There is also a Dunnes Stores and a Tesco store in shopping centres to the East of Corrib Village and across the river (walk towards town and cross over the first bridge, the Quincentennial Bridge. Tesco is located across the first rotary, to the right. Dunnes Stores is to the left of the rotary, also across the road. There is another Dunnes Stores outlet in the Westside Shopping Centre (West of Corrib Village) and an Aldi store nearby.
Getting Around Galway
What taxi companies are there?
Taxis can be expensive – ask and agree on a price before travelling.
Some useful numbers:
Galway Taxis  091 561111
BIG-O-TAXIS  091 585858
Pro Cabs  091 565900
Claddagh Cabs  091 588434
Bicycles
Check 'for sale' advertisements in the Galway Advertiser newspaper. Bicycles can be hired or purchased second hand at West Ireland Cycling. They offer to buy back the bicycle when you have finished with it.
Tours
Are there any tours I can go on?
The Galway Tour Company offers creative, fun and informative day tours to the most popular local attractions, such as the Cliffs of Moher, The Burren, Kylemore Abbey in Connemara etc. For further information and rates, click here.